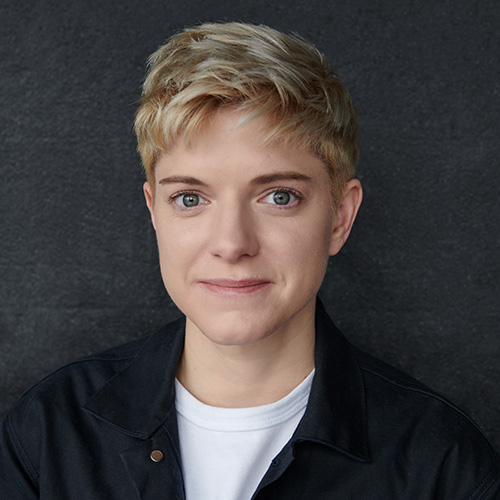 ---
Mae Martin is an award-winning comedian, actor, writer and producer who received the Rising Star Award at Just for Laughs comedy festival in Montreal this year. Their new stand-up special SAP, directed by Abbi Jacobson, launched on Netflix in spring 2023 to positive reviews and marked Mae's hour-long comedy special debut. In SAP, Mae reflects on a world off its axis, from a mythical moose encounter to the gender spectrum in Beauty and the Beast. Mae is included in Variety magazine's prestigious Comedy Impact Report and named as part of The Telegraph's 50 Funniest Comedians of the 21st Century.
Mae was crowned the winner of Taskmaster season 15, the hit comedy game show airing in the United Kingdom. Next up, Mae will, star and executive produce the recently announced limited series for Netflix entitled Tall Pines, which Mae also created. Tall Pines is a thriller set in a rustic but sinister town that explores the insidious underbelly of the troubled teen industry and the eternal struggle between one generation and the next.
Mae is best known for creating, starring and writing Feel Good, a critically acclaimed drama-comedy series, for which they were nominated for a BAFTA (British Academy Film and Television Arts) Award. The first season, co-starring Lisa Kudrow and Charlotte Ritchie, launched in the United States and globally on Netflix to widespread praise and a perfect 100% Certified Fresh score on Rotten Tomatoes. Feel Good also won The Edinburgh TV Award 2020 for Best Series as well as the Best Comedy Drama Series at the C21 Awards.
Mae's acting credits include a memorable guest-starring role on the second season of HBO Max's The Flight Attendant opposite Kaley Cuoco.
Their previous stand-up show, Dope was nominated for Best Comedy Show at the prestigious Edinburgh Comedy Awards while earning four- and five-star reviews in the United Kingdom. The show has since been turned in to a stand-up special for Netflix as part of their global stand-up series, Comedians of the World.
Mae is also the author of Can Everyone Please Calm Down?: A Guide to 21st Century Sexuality, published in May 2019 by Hachette Children's Group imprint Wren and Rook.